Old photos tend to be some of the most fun ones to share with family members simply because they are so rare. And when you only have one photo of an ancestor, it becomes that much more important to care for it. Photo restoration is one of my favorite ways to bring old photos back to life, so in this blog post, we're reviewing PhotoGlory – an intelligent old photo restoration software.
Photo Restoration is Fun!
Photo restoration can be quite fun, but it can be a steep learning curve for a novice. When people look for a software to restore old photos with, they often automatically default to more advanced tools like PhotoShop, but there are other solutions on the market too. They may be less well-known, but perhaps a simpler photo editor is all you need? PhotoGlory offers ways to quickly fix your photos in just a few clicks without the need for additional training, and that's a very attractive proposition if you're looking for something that can fix a handful of old photos. 
What is PhotoGlory?
PhotoGlory is a photo restoration software created by AMS Software. For the purpose of this review, I was able to test out the latest version of PhotoGlory on a computer running Windows 10. This program comes with a free trial, so you can try it completely risk-free.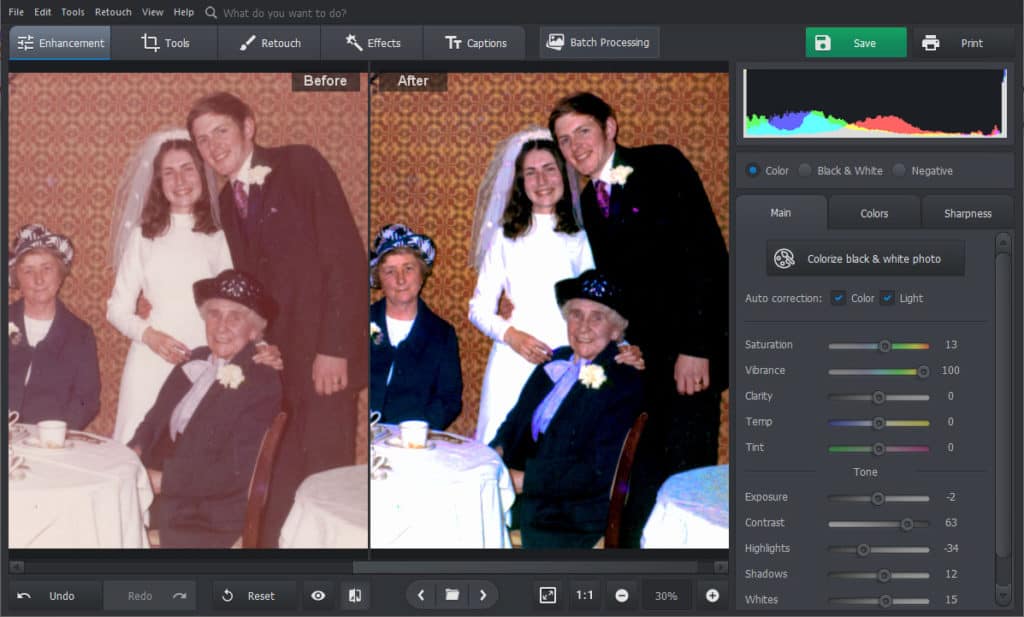 What Can PhotoGlory do?
Once downloaded and installed, there is a lot you can do with this software, for example:
Crop, tilt, rotate, and flip photos

Remove discoloration, stains, and scratches

Colorize photos automatically or manually

Adjust colors, brightness, contrast, and saturation

Add text or captions

Add date stamps

Enhance photos with dozens of pre-loaded effects
The majority of PhotoGlory fans use the software for colorizing photos, but I was actually far more impressed by two of it's other features: its healing brush and its noise reduction. Both are tricky things for a beginner to deal with, but necessary tools to use when restoring old photos. 
Let's have a closer look at what I did with these two features:

The Healing Brush
First up, the healing brush. This is a tool that lets you cover up spots in photos, as well as fix scratches, dust, and other imperfections, by cloning pixels in the surrounding area while still taking into consideration the histogram of the photo. In the PhotoGlory photo restoration program, this was really easy to use, and I was able to touch up the photo below in about 5 clicks. Then I sharpened it a bit, adjusted the brightness and contrast, and turned it into a black and white image. The whole process took less than five minutes, which is about as quick as it gets when it comes to photo restoration. 
With PhotoGlory, you have control over the size of the healing brush, the feather, and its opacity. There is no way to control the exact pattern, but if that's something you're looking for, you're better off with a more advanced tool anyway. All in all, I was pleasantly surprised by the amount of control you have in PhotoGlory despite its simplicity.
Noise Reduction
Digital noise reduction is an important part when post-processing photos, but the key is to be able to control it well. Too much noise reduction and the subjects in your photos will look like plastic mannequins. Too little and any graininess in the photo will be too distracting to enjoy it.
For a budget software, PhotoGlory actually did a pretty good job on my test photo. I was able to easily adjust it to my liking, and settle on something nice. Here is an example of a more aggressive edit, just so you can see the difference between a photo with more digital noise and one that has been adjusted.
Sound interesting?
So what do you think?
Will you consider trying out PhotoGlory for simple quick fixes?
For advanced users, PhotoShop will always be king, but for novice users, this is a very effective solution for touching up those old photos with a simple and down-to-earth old photo restoration software. Be sure to only work on copies of the originals, so you don't mess with your original scan, but other than that, we hope you try to experiment with different options! So don't waste another moment and get PhotoGlory right now. You can download it here. It's a one-time purchase and installation, so you won't have any recurring subscription charges.
Enjoy!